California median home price reaches new all-time high in March as nearly two-thirds of homes sell above asking price, C.A.R. reports
Existing, single-family home sales totaled 446,410 in March on a seasonally adjusted annualized rate, down 3.5 percent from February and up 19.7 percent from March 2020.
March's statewide median home price was $758,990, up 8.6 percent from February and up 23.9 percent from March 2020.
Year-to-date statewide home sales were up 17.1 percent in March.
LOS ANGELES (April 16) – Fierce competition drove California's median home price to reach a new record high in March, while the state's housing market continued its momentum with sales remaining solid heading into the spring homebuying season.
Source: https://www.car.org/aboutus/mediacenter/newsreleases/2021releases/jan2021sales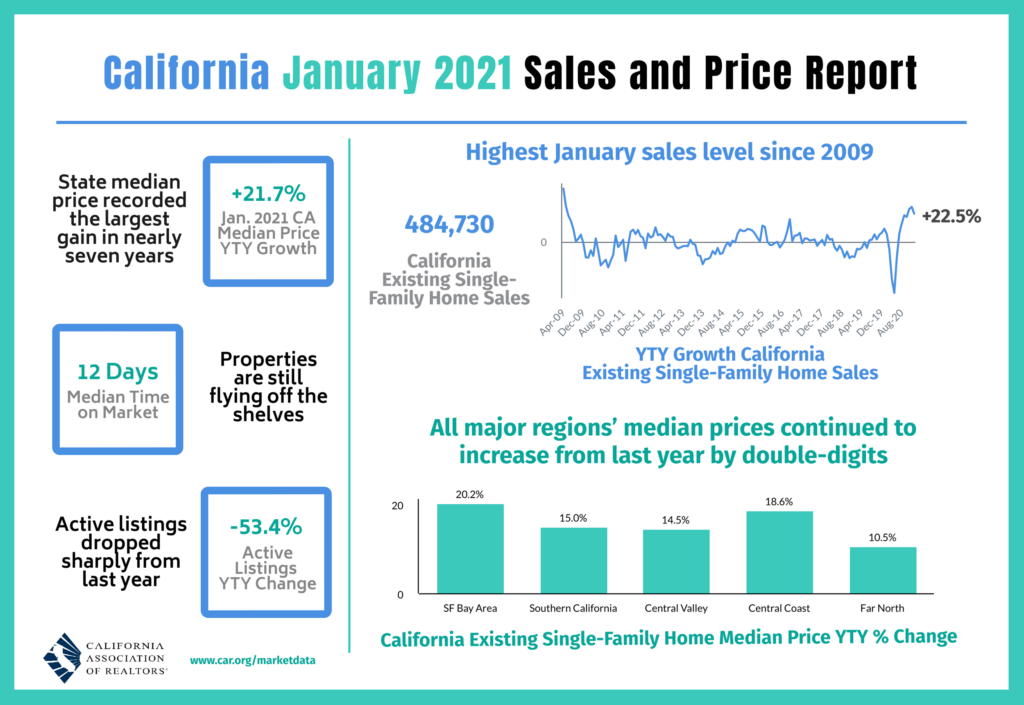 LOS ANGELES (Feb. 19) – California's housing market kicked off the year on a positive note, following up on December's strong showing with double-digit price and sales growth on a yearly basis in January, the CALIFORNIA ASSOCIATION OF REALTORS® (C.A.R.) said today.
Source: https://www.car.org/aboutus/mediacenter/newsreleases/2021releases/jan2021sales